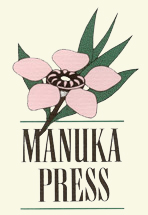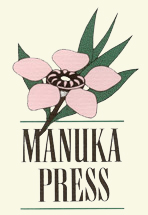 Manuka Press
Who are Manuka Press?
Manuka Press is a small Home Office publishing company dedicated to producing quality, value for money, publications – primarily with a botanical theme. The books are produced in our spare time from our regular jobs and the Home Office is not staffed during regular office hours. As such you may experience slight delays when dealing with us. Please leave phone messages, FAXes, or send e-mails, and every attempt will be made to get back to you within 24 hours.
Ordering Books
Note:- because of our small size we are unable to process credit card orders. The cost to us of doing this is prohibitive. Our preference is to receive cheques with orders. However, we can invoice to recognised companies and organisations.
You can order books from us in a number of ways:
Regular post – send your Purchase Order through the normal post to the address below. The PO Box is cleared once a week (usually Saturday) and orders are processed for delivery during the following week.
FAX – send your Purchase Order by FAX. FAX orders are normally processed and sent within 3 working days.
Phone – leave a detailed message on the phone answering machine.
E-mail – we clear e-mails on a daily basis and is the preferred method of communication. Simply send an e-mail with the full details of your order.
Order Form – use the on-line Order Form to select books and automatically calculate your cost. Once filled in you simply print the form and then send to us via the post with your payment or FAX with your purchase order details.
Our address is:
Manuka Press
P O Box 245
Cromwell 9342
Central Otago
New Zealand

Phone: +64 3 445 4650
Mob: +64 21 340 994

E-mail: sales@manukapress.co.nz                 Sales Manager: Richard Broadhead

Terms of trade:
Postage and Packaging

New Zealand orders: Postage and packaging is included in the purchase price.
Overseas orders: The actual cost of postage is added to the purchase price of the publication. Packaging is free. Please specify a preferred approximate number of days to deliver and we will determine the cheapest method to meet that criteria to your country.

Prices listed are recommended retail and are GST inclusive, in NZ$.

We can accept payment by cheque or direct credit – Note no Credit Cards.

All claims for non-delivery should be made within 1 month of order.

Claims for faulty books can be made at any time. Please return the faulty book with a explanation and we will replace it. Obviously, this does not apply to normal wear and tear.

Every purchase is subject to the laws of New Zealand.
Manuka Press reserves the right to alter book prices and specifications, and the terms above without notice.
Privacy Policy
At Manuka Press we believe in our customers' rights to privacy. This means we won't sell or exchange names or any other information about our customers with other companies or organisations.
In order to improve our customer service we do keep track of customer details and purchasing histories and may at times use them to offer you special deals or to keep you up to date with our latest publications. If, for any reason you would like to be removed from our mailing list, please contact us